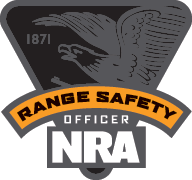 Course Details

Students who successfully complete this course will become NRA Certified Range Safety Officers. NRA membership is recommended before signing up for this course. NRA Range Safety Officers must be 21 years of age or older.

​

The Range Safety Officer course consists of:

​

     • Range Safety Officer's roles and responsibilities

     • Range standard operating procedures

     • Range inspection and range rules

     • Firearm stoppages and malfunctions

     • Range Safety Briefings, which include emergency procedures

​

Candidates must also receive 90% or higher on the written exam.

 

Course Requirements

• Good attitude - no ammo required

 

 

DOWNLOAD/PRINT FORM and please for our convience and yours fill out the form with a black ink pen and bring it to class with you. This will help us speed up the class time, so we can spend more time training, and improving your skills. Thank You!
NRA RANGE SAFETY OFFICER
This is a Group Only course. There has to be a minimum of 3 students to take the course. If you do not have a group of 3, you can join our wait list by clicking here. Fill out the form and we will be in contact with you when there are other interested students. Price shown for the course is the group pricing. That price will be split between 3 people.
CLASS TIME:
8:00AM
CLASS LENGTH:
9 HRS.
STUDENT LIMIT:
20